The Enneagram: Because people matter
Dealing with people is like playing music. It's an art. Even if we are naturally gifted, it is still helpful to understand some of the theory behind music: how harmony, rhythm, melody and dynamics interact. We interact with people all the time, but not all of us study the theories that explain the structure of people's minds, the ebb and flow of their emotions, the patterns we call character and the inconsistencies of behavior.
Getting along with others and trying to figure out people is a preoccupation for most of us and an occupation for some. The Enneagram (Any-a-gram) is, by far, one of the best theories for understanding people AND one of the most useful systems for improving your interpersonal proficiency. It is immediately practical as well as being elegantly theoretical.  You will be playing better music with people after just one class.
Origins of the Enneagram
While the ancient origins of the Enneagram remain somewhat obscure, we know that this template, as a symbol, evolved at a time in our human history before psychology when philosophy, religion, ethics and science were seamlessly united. It has been adapted and augmented by contemporary psychologists in the past forty years. It is used in professional training, counseling, coaching, organizational development, team building, religious communities, and well as a guide for psychological and spiritual development.
The Enneagram is . . .
The Enneagram is a system for getting along better with others. Getting along may include:
understanding how someone else thinks
having insight into why you are misperceived in certain situations
being more skillful with the people you work with or manage
building better rapport with clients, customers and colleagues
understanding your strengths and weaknesses as a partner, parent or spouse
seeing why certain relationships challenge you more than others
increasing your ability to be empathic towards others
building more intimacy and deeper connection with people that matter to you
The Enneagram is able to distill the diverse human spectrum into nine essential patterns or ways of seeing the world. Thus the name Ennea=nine and gram=drawing.  [See the symbol below]. It describes nine mental-emotional templates that are familiar to us all. While we share some knowledge of and use characteristics of all nine templates, we tend to favor a few of these to the exclusion of the others. It is like playing music having only one or two notes to use. You can do it.  It just doesn't make for great music.  The Enneagram opens new harmonic possibilities.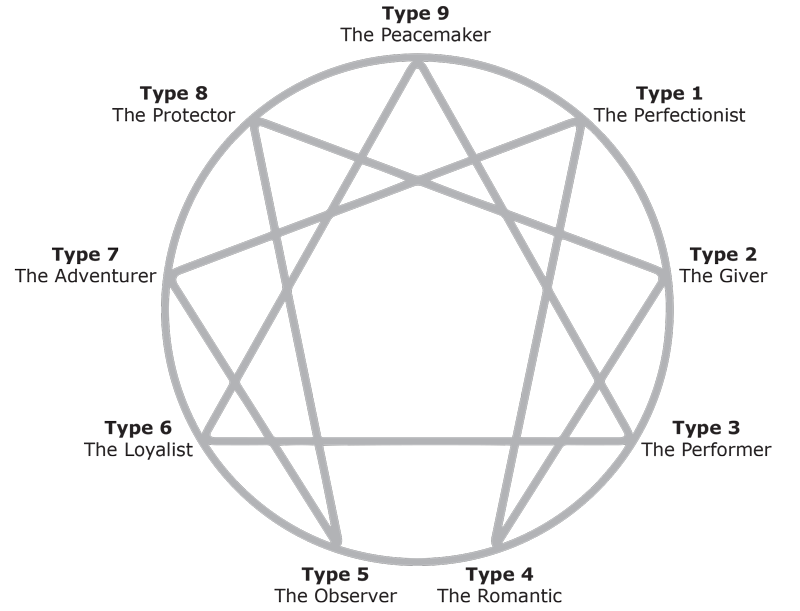 How to learn the Enneagram:
Like most things, learning through personal experience is usually best. There are now hundreds of books on the Enneagram as well as websites, blogs, DVD's, on-line tests, etc. These can be very useful. However, the best way to implement the Enneagram and make it come alive is still through classroom learning. You need to be around people to understand people. The classes I provide are highly experiential. You will not be hearing me talk about or lecture on the Enneagram. You will be experiencing it firsthand through peoples' stories. You will be living IN the Enneagram laboratory rather than studying it.  After one class, you will be seeing yourself and others differently.
For those who wish to become more proficient with the system or use this in professional settings, I offer packages and custom trainings.
Classes:
An Introduction to the Enneagram This all-day foundational class provides a basis for all continued learning. You will come away with an understanding of the nine essential "types" of the Enneagram, clarity about discovering your own type, and tools to get you started in learning more, including the 68-page Field Guide to Humans: An Introduction to the Enneagram. The class includes a brief overview, multi-modal ways of introducing the nine types as well as live interviews with people who identify with each type. Many people repeat this class several times to deepen their understanding. You see something new each time. New people, new learning.
Moving into the Enneagram This all-day class (or three two-hour modules) explains more about the intricate structure and subtleties of the Enneagram including "wings," subtypes, movement and paths of development for each type.
Transforming Relationships This two-day workshop is designed to bring you more deeply into the dynamics that exist between you and others.  Having gained some proficiency in recognizing our own patterns and the patterns of others, you will learn how to transform obstacles and "derailers" in your relationships into more openness and understanding. Recommended for couples and for anyone wanting to be a better parent, friend, professional and decent human being.
Enneagram Professional Training These are customized trainings designed and presented in-house at your company or organization to address the specific issues around management, supervision and professional development.  One-on-one executive coaching can be arranged in-person or remotely through Skype or FaceTime.